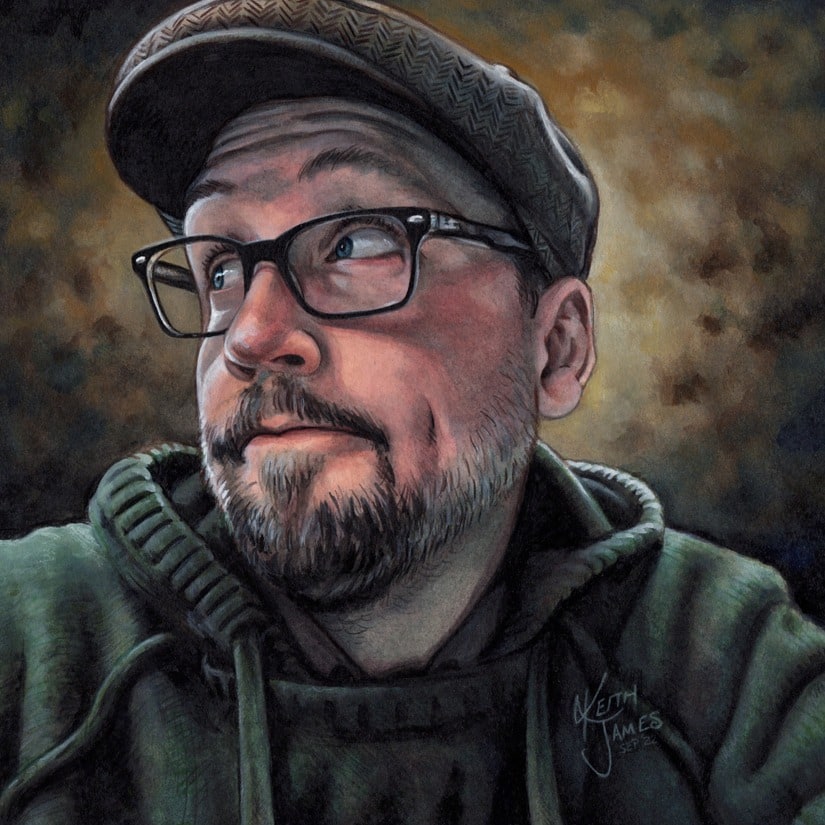 My full, legal, married name is Keith James Nickolaus-Johnson, which is all rather long, so I drop the second half for art and writing to keep it simple. Anyway, I'm a bear loving, geeky, artist/author, living in Glen Lake MN with my husband & dog. I was raised, and still live, in Minnesota, only leaving for 4 1/2 years to attend The Columbus College of Art and Design in Ohio, where I graduated with a BFA majoring in Illustration.
When I'm not drawing or painting, I enjoy hanging with my hubby, John. We're pretty dull, we like watching movies and TV. That said, he and I are both fans of musical theatre.
I know! A couple gay men interested in theatre… what are the chances?! I hope you heard the sarcasm in that... though I will say, I think that connection to theatrics helps my art. Anyway - we even tried forming our own community theatre. Unfortunately we only produced 4 shows before we had to stop; we just didn't have the manpower or finances to continue on our own. Maybe someday we'll resume, but for now, we just like to perform in and/or direct other productions on occasion.
My art business has been designated as a "Trusted Art Seller" with The Art Storefronts Organization, which means you can shop with confidence, and know that I stand behind the quality and value of my products.
So take a look through the galleries, I hope you enjoy what you see!
I have a love for superhero comic books and science fiction/fantasy stories, which is how I earn the title of "geek". I even spent a better portion of the years after college doing illustrations based on those loves. Unfortunately, most of it is based on copyrighted material, so I'm not able to sell any of it... but I'm working on changing that. Until then, my main focus these days has been Bears. Please note, when I say "bear", I'm not talking about an animal. No, for me bear means robust and/or tubby, furry, and (almost always) gay men.
My bear art is not quite as geeky and different from the rest of my work. While there is some nudity, I don't think any of it is pornographic. Frankly, if that's what you want, you're better off going somewhere else. But it is definitely created with an adult audience in mind, and some of the images can be suggestive. I have a handful of different series all based around the Bears and that's what you'll see dominating this site for now.
If you're interested in seeing my other more geeky work, that I can't sell, check out my page on DeviantArt.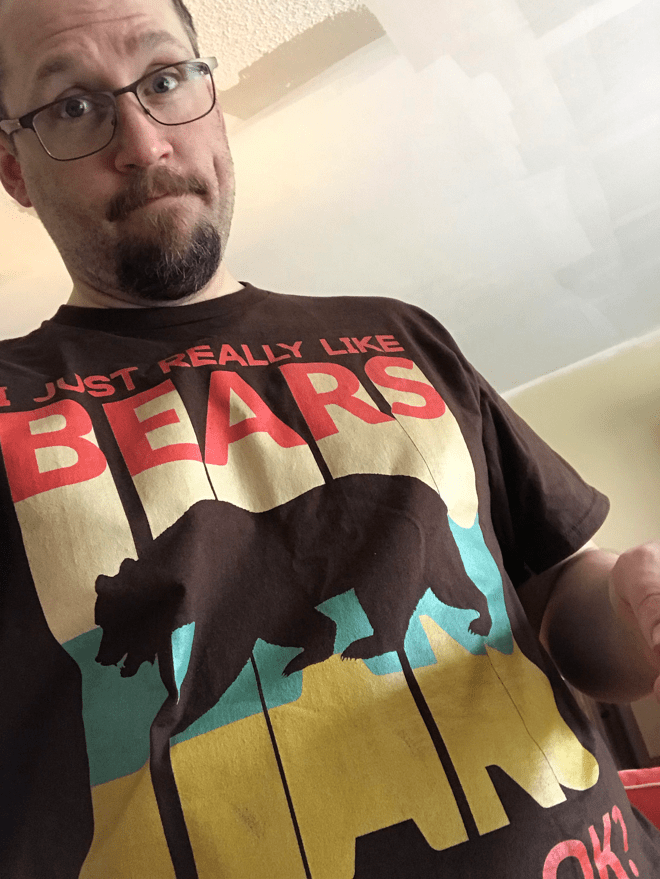 I've been involved with art as long as I can remember and knew I'd be working in it since I was a child. My primary medium is gouache paint, followed closely by its better known "cousin", watercolour. I commonly work on hot press watercolour paper, and almost always use coloured pencils to help enhance the paintings. Though my ultimate passion is for painting, I also I do plenty of pencil drawing (especially when I'm creating a completely original image) but I also enjoy scratchboard, and have even been dabbling with sculpture.